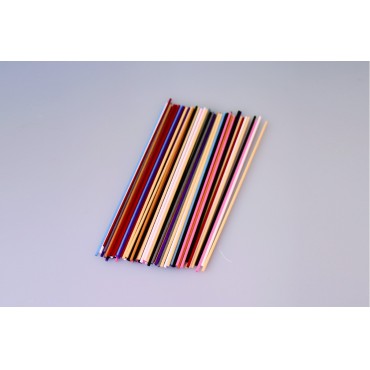 DT002 Fiber Fragrance Sticks
MOQ:

1,000 m

Supply Capability:

5,000 m / day

Port:

Shanghai & Ningbo & Anqing

Delivery:

25 days

Packaging:

Plastic Bag
Details
YUDA promise to provide you the best quality Fiber Fragrance Stick.
DESCRIPTION:
YUDA promise to provide you the best quality fiber fragrance sticks. Fiber fragrance sticks is great popular in European and American countries of white-collar crowd. When you put the fiber fragrance stick into perfume and essential oil, the aromatic smell will through central nerve to the brain, it can relax the nerve. And the smell itself also has the function that can purify air, eliminate peculiar smell. The smell of fiber fragrance stick is different , the stimulation for cerebral cortex will be different, so different smell will bring different effects. You can be confident knowing YUDA is the choice on your hands.
SPECIFICATION:
Color: Any colors can provide.
Diameter: Any Diameters can provide.
Length: Any Length can provide.
PRODUCT DETAILS: